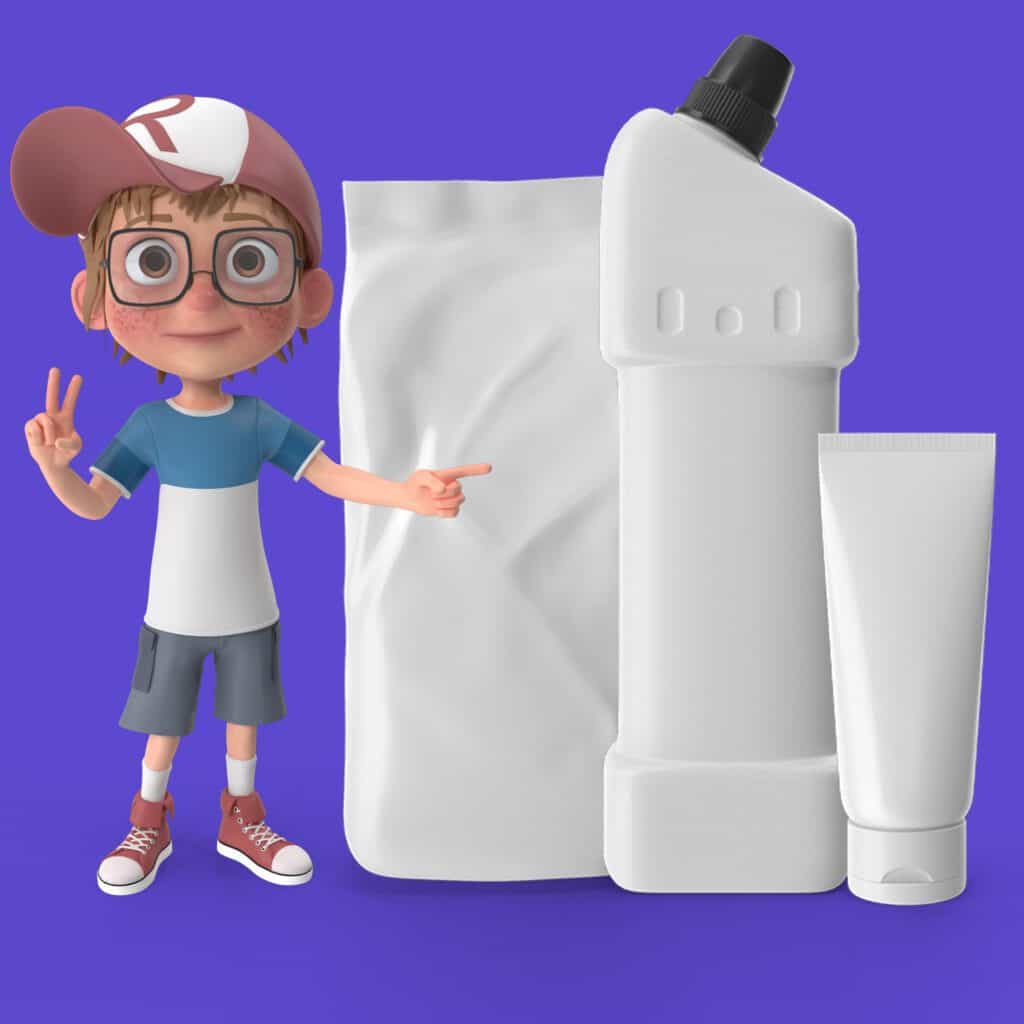 3D Modeling for Product Packaging
Trend of Using 3D Modeling for Product Packaging in Hyderabad, India:
Welcome to the world of 3D modeling for product packaging in Hyderabad, India! In today's competitive market, standing out from the crowd is essential. Businesses are always on the lookout for innovative and eye-catching ways to showcase their products. 3D modeling for product packaging is one such powerful tool that can enhance your brand visibility and make a lasting impression on your target audience. This comprehensive guide will help you understand the potential of 3D modeling in transforming your product packaging and give you insights into some of the best work done by Harsh Designs in Hyderabad, India. The use of 3D modeling for product packaging is gaining tremendous popularity worldwide, and Hyderabad, India, is no exception. As businesses realize the immense potential and benefits of using 3D models for their product packaging, the demand for this innovative technology continues to grow. It allows businesses to showcase their products in the best light, leading to increased customer engagement and ultimately, higher sales. 3D modeling for product packaging is the future of marketing and advertising in the ecommerce space.
What is 3D Modeling for Product Packaging?
3D modeling is a computer graphics technique used to create a digital representation of an object in three dimensions. It involves using specialized software to manipulate vertices, edges, and faces, defining the shape and structure of the object. 3D modeling is widely used across various industries such as gaming, architecture, animation, and product design, including product packaging. With advancements in technology, 3D modeling software has become more accessible, allowing businesses to leverage its potential for creating realistic and visually appealing product packaging designs.
How 3D Modeling for Product Packaging Images are different from Product Photography?
While both product photography and 3D modeling product packaging images aim to showcase a product in the best possible way, there are significant differences between the two.
Product photography involves capturing images of the physical product using a camera and lighting equipment. It requires setting up a physical environment, adjusting lighting conditions, and post-processing the images to achieve the desired look.
On the other hand, 3D modeling product packaging images involve creating digital representations of the product and its packaging using specialized software. This process offers numerous advantages over traditional product photography:
Flexibility: With 3D modeling, designers can easily make changes to the design, color, or texture without the need for a new photoshoot.
Consistency: 3D models ensure consistent lighting, angles, and proportions, resulting in a cohesive visual presentation.
Cost-effectiveness: Although the initial investment in 3D modeling software may be higher, it can save businesses money in the long run by eliminating the need for multiple photoshoots and minimizing post-processing time.
Customization: 3D models can be easily customized for different marketing materials or platforms, offering businesses greater control over their branding and messaging.
Advantages of 3D Modeling for Product Packaging:
3D modeling for product packaging offers several advantages over traditional methods:
Enhanced visual appeal: 3D models can create photorealistic representations of products and packaging, making them more visually appealing to potential customers.
Improved customer engagement: By providing a 360-degree view of the product and its packaging, 3D models allow customers to interact with and explore the product, leading to increased engagement and a better understanding of its features.
Faster time-to-market: 3D modeling enables designers to make changes quickly and efficiently, reducing the time it takes to finalize the packaging design and get the product to market.
Cost savings: As mentioned earlier, 3D modeling can save businesses money by eliminating the need for multiple photoshoots and minimizing
The Importance of 3D Modeling for Product Packaging for Ecommerce Businesses:
Ecommerce businesses have experienced exponential growth in recent years, with customers increasingly relying on online platforms to shop for a wide range of products. To stay competitive, ecommerce businesses need to differentiate themselves and create a seamless shopping experience for their customers. 3D modeling for product packaging offers several benefits in this regard:
Enhanced product presentation: 3D models allow for a more realistic and detailed representation of products and their packaging, increasing their visual appeal and making them more enticing for potential customers.
Reduced returns: By providing customers with an accurate representation of the product and its packaging, 3D modeling can help reduce the number of returns due to mismatched expectations.
Improved customer satisfaction: The interactive nature of 3D models enables customers to explore products more thoroughly, leading to increased satisfaction and higher conversion rates.
The Utility of 3D Modeling for Product Packaging for Ecommerce Websites and Social Media Marketing
3D modeling for product packaging is a powerful tool for ecommerce websites like Amazon and Flipkart, as well as for businesses' own websites and social media marketing efforts. Here's how 3D modeling product packaging can be advantageous:
Consistent branding: Utilizing 3D models ensures that product images maintain consistent lighting, angles, and proportions across various platforms, which is crucial for establishing a strong brand identity.
Customization for targeted marketing: 3D models can be easily adapted to create tailored marketing materials for specific audiences and demographics, enabling businesses to reach their target customers more effectively.
Increased customer engagement: 3D models can be incorporated into interactive marketing materials, such as virtual showrooms or augmented reality applications, providing customers with a more immersive and engaging shopping experience.
Why Choose Harsh Designs for Your 3D Modeling for Product Packaging Needs?
Selecting the right partner for your 3D modeling product packaging needs is crucial to ensure the success of your ecommerce business. Harsh Designs, based in Hyderabad, India, is a premier choice for businesses looking for top-notch 3D modeling services. Here's why:
Expertise: Harsh Designs has a team of experienced and skilled 3D artists who are well-versed in the latest 3D modeling techniques and software, ensuring high-quality results.
Customer-centric approach: Harsh Designs focuses on understanding the unique needs of each client and delivering tailored solutions that meet their specific requirements.
Timely delivery: Harsh Designs is committed to meeting deadlines and delivering projects on time, ensuring that your product packaging is ready for launch when you need it.
Competitive pricing: Harsh Designs offers competitive pricing without compromising on quality, making their services accessible to businesses of all sizes.
Harsh Designs Portfolio in 3D Modeling for Product Packaging: Showcasing Excellence Across Industries:
Harsh Designs has an extensive portfolio of successful 3D modeling projects, which demonstrates their expertise in creating visually appealing and highly detailed product packaging designs for various clients. Here's a brief overview of some of their most notable work:
TAC The Ayurveda Co.: Harsh Designs created lifelike 3D models for TAC's range of Ayurvedic products, emphasizing the unique packaging design and the natural ingredients used in their formulations, helping to strengthen TAC's brand identity.
TruRadix Nutraceutical Products: Harsh Designs showcased TruRadix's line of nutraceutical products through detailed 3D models, allowing customers to better understand the product offerings and packaging, which ultimately led to increased sales and customer satisfaction.
Poshvic Organic Products: By crafting photorealistic 3D models for Poshvic's organic product range, Harsh Designs highlighted the eco-friendly packaging and premium quality of the products, which resonated with the environmentally conscious target audience.
KERATINE Hair Shampoos: Harsh Designs produced striking 3D models for KERATINE's hair shampoo range, capturing the sleek and modern packaging design and helping the brand stand out in the competitive hair care market.
COAL Clean Beauty Products: For COAL's clean beauty products, Harsh Designs created visually appealing 3D models that showcased the minimalist packaging design and emphasized the brand's commitment to using natural and non-toxic ingredients.
Argan Oil Hair Spa with Keratin Protein: Harsh Designs developed realistic 3D models for this premium hair care product, highlighting the luxurious packaging and the benefits of the unique combination of argan oil and keratin protein.
BT ROLLS Digital Watches: To showcase BT ROLLS' innovative and stylish digital watches, Harsh Designs created detailed 3D models that captured the intricate designs and features of the watches, making them more appealing to potential customers.
Quantum Hi Tech Electronic Gadgets: Harsh Designs showcased Quantum's range of cutting-edge electronic gadgets through high-quality 3D models, effectively conveying the advanced technology and sleek design elements of the products.
iBall Hard Disks: Harsh Designs crafted realistic 3D models for iBall's hard disks, highlighting the compact and modern design, which helped potential customers visualize the product's suitability for their storage needs.
Marie Claire Paris Electronic Products for Hair: Harsh Designs captured the essence of Marie Claire Paris' high-end electronic hair products with elegant and sophisticated 3D models, enhancing the brand's luxury image.
Pebble Electronic Gadgets and Smartwatches: By developing detailed 3D models for Pebble's electronic gadgets and smartwatches, Harsh Designs emphasized the products' advanced features and stylish design, appealing to tech-savvy customers.
Freepik Resources: Harsh Designs has extensive experience in creating 3D models for automobile interior, exterior components, Human Body, Pets and much more demonstrating their ability to produce highly accurate and visually captivating models that help clients showcase their products in the best possible light.
Table of Contents