What is WhatsApp Marketing, and how to use WhatsApp for business in India?
Learn how to use WhatsApp for business to give prompt, personalised service to your consumers.
WhatsApp marketing is a sort of messenger marketing in which a brand is promoted via WhatsApp. This channel assists brands in reaching a large audience, developing strong customer relationships, and increasing sales.
While you've most likely already covered Instagram, LinkedIn, and Facebook in your social media strategy, WhatsApp could be just as important for your business.
That's right: WhatsApp isn't simply for texting coworkers or video chatting with family members who live in another city. It can also be used for business.
WhatsApp Business was built with the needs of small businesses in mind. It can assist you in connecting with your customers and providing them with prompt, personalised service.
We'll explain why you should consider adding a WhatsApp Business account to your brand's social strategy if you haven't already.
What is WhatsApp?
Like Facebook Messenger and Telegram, WhatsApp is a messaging programme.
The WhatsApp mobile software communicates with other WhatsApp users via the phone's Internet connection, making it a less expensive alternative to international calling or messaging.
When it first began in 2009, WhatsApp was a stand-alone messaging service, but in 2014, Facebook bought it. It is still in Facebook's control as of 2022.
WhatsApp is used for both business or personal use because:
It's completely free. The only fees you may pay for data fees.
It's reliable. You can use WhatsApp to chat with anyone all over the world as long as you're connected to the internet or have mobile data.
It is widely accessible. WhatsApp users can be found in 180 countries.
It isn't just a matter of texting. WhatsApp may be used to send voice messages, make phone conversations, and make video calls, as well as share photographs, videos, documents, and your location.
8 WhatsApp stats you probably didn't know:
You probably didn't know these WhatsApp figures.
The figures are self-evident.
WhatsApp is the most widely used mobile messaging programme in the planet.
At least once a month, 2 billion individuals around the world use WhatsApp.
This puts WhatsApp ahead of Facebook Messenger, which has 1.3 billion users, and Telegram, which has 1.2 billion users.
Why Should Your Business Use WhatsApp Marketing?
WhatsApp is the most widely used messaging app on the planet. By 2021, its monthly audience will have swelled to 2 billion active users. For organisations looking to interact with audiences in developing countries, this marketing channel is a must-have. In India, for example, there are 340 million monthly WhatsApp users and around 100 million in Brazil. However, in the US and Indian market, WhatsApp is a fantastic alternative for promotions, as 98 million Americans and Indians use it at least once a month.
More than half of WhatsApp users check the app every day, thus WhatsApp marketing allows you to stay in touch with your customers. Even better, text messages have a 98 percent open rate, so you can be sure they'll see your offers.
Last but not least, your customers adore this mode of contact. They have higher faith in brands that use chat applications — 53% of people said they would buy from a company that can be reached via chat.
There are, however, additional advantages to include WhatsApp in your marketing approach. Continue reading to learn about a few additional advantages of this marketing strategy.
Benefits of WhatsApp Marketing for Your Business:
Profound relationships with customers
Higher conversion rate
Better sales
Lower cost of marketing
1. WhatsApp is the world's third most popular social media platform.
It is only third to Facebook and YouTube in terms of global popularity.
2. As of 2020, WhatsApp had more than half a billion daily active users
That's an increase from 450 million at the end of 2019.
3. Most of WhatsApp's new users in 2021 are in the India
Following the India, Mexico, Russia, Indonesia, and Germany had the most WhatsApp downloads in 2021.
4. 27% of Indian WhatsApp users range in age from 15 to 45 years old
5. WhatsApp is primarily used in India to communicate with friends and family.
That is why the app is used by 82 % of Indians. Strengthening a professional network (13 %) and getting entertainment (10 %).
WhatsApp's business app has some unique and attractive features:

WhatsApp recently launched a new platform called WhatsApp for Business. This is a platform for small enterprises and SME's to communicate with one another.

Take a look at some of the most fascinating WhatsApp business app features. These features are primarily intended to help you communicate effectively with your target consumer base.
1. Creating a business profile:
The first and most important feature of the WhatsApp Business app is that it allows you to create a business profile on the network. You can supply many pieces of information in this edition, such as your business address, email address, and website address. On this platform, you may also choose your business's category.
2. Using quick responses to communicate:
Quick responses is a feature available in the WhatsApp business app. Quick responses might assist you in responding to the most often requested questions. There are a few questions that come up frequently in your line of work. You can react to those queries with normal responses once you've built up rapid responses. This improves the response rate, which helps to improve your brand image.
3. Automatic messages:
An automated chat boat model is also available in WhatsApp business module. As a result, anytime a new consumer visits your WhatsApp business profile, they will be greeted with an automatic message. If you are out of the office or town, you can set an out of office message in your WhatsApp business profile. This functionality ensures that your client receives a timely response from your end at all times.
4. Using labels to categorise the conversation:
WhatsApp business, like your email platform, allows you to tag specific conversations. You can tag new prospects for a dialogue with a possible customer, for example. This allows you to quickly locate any communication at a later time.
5. Messaging analytics:
A marketing strategy should always be measured by the outcomes it generates. The WhatsApp business feature gives you information like the total number of messages received, how many are delivered to the consumer, and how many are opened. Finally, you'll be able to determine how successful your campaign was.
WhatsApp marketing strategy for business:
Considering the huge reach and unique resources available, you'll need to develop a separate WhatsApp marketing strategy in addition to your usual communication methods.
Note WhatsApp is essentially a personal chat programme that is linked to your phone number. You must value personal space as a sender of business messages. To get the most out of your users, your message should be unique and innovative.
1. Reaching out to your customers:
WhatsApp is a private messaging programme that is mostly used for one-on-one conversations. Creating a personal relationship is the most efficient approach to use WhatsApp for business.
When constructing an automated message, provide a person's name. Even though there are numerous persons in the background who operate the show, just one name needs to be listed. It will contribute to a more intimate conversation.
2. Creating communication databases:
The success of a WhatsApp marketing campaign is determined by the quantity of phone numbers of potential clients. Because a phone number is such a personal item, it is always preferable to obtain it directly from the customer.
WhatsApp's click-to-chat feature can be linked to your website, email, or social media accounts. This will assist you in obtaining more phone numbers from potential customers.
As part of your WhatsApp marketing approach, you could also give something beneficial to clients in exchange for their phone numbers. It might be anything from freebies to promotional codes to special offers. It encourages customers to share their phone numbers with you.
3. Responsive customer support services:
In today's world, a quick reaction is one of the most important parts of good customer service. You'll be able to answer immediately to all client inquiries thanks to WhatsApp's automatic messaging features.
This functionality is very useful for startups and small businesses who have limited resources. You may use WhatsApp for business to share movies and documents with your customers in addition to text messages. This automated messaging assists you in providing quick customer service.
For the finest customer service experience, you should constantly focus on real-time responses when utilising WhatsApp.
4. Status on WhatsApp
WhatsApp also offers a feature called active status. This status is only good for 24 hours. As a result, status is an excellent spot to promote a limited-time offer or a special promotion.
You can also use status to upload a sneak peek of your office or manufacturing facilities. This may persuade your customer to choose your services over others.
The final point to remember:
Clients are increasingly interested in interacting with brands. That is why a growing number of businesses are turning to messaging services to conduct their operations.
WhatsApp is an ideal platform for reaching out to customers, establishing a relationship with them, and promoting your products. It is one of the most cost-effective forms of communication for startups and small businesses.
Create an effective WhatsApp marketing strategy and begin promoting your goods on this wildly popular platform. You'll get the first-mover advantage because there isn't much of a corporate presence on WhatsApp.
Get your WhatsApp marketing campaign off to a good start.
WhatsApp Business Messaging is a versatile and powerful communication tool that may help you build lasting relationships with your consumers. As a result, a WhatsApp marketing plan is an important element of your marketing arsenal, supporting your customer experience goals and providing value at key points in the customer journey.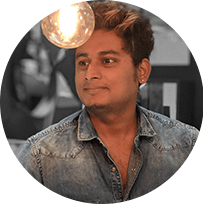 About the Author:
Harsh Puranam is a Senior Graphic Designer, UI & UX Designer, SMM Expert, and Motion Designer from Hyderabad, Telangana.